Diane Caputo: Pre-ballet, Tap and Musical Theater
Miss Diane is a native of Denver. During a career of more than thirty years, Miss Diane has brought dance education to thousands of students throughout the metro area. She attended the United States International University in San Diego, CA on a dance scholarship, and graduated with a Musical Theater Dance Arts degree. She auditioned and was accepted at the MGM hotel in Reno, Nevada to perform in "Hello Hollywood Hello!" Miss Diane has performed in numerous musicals; West Side Story, Oklahoma, Oliver, and Guys and Dolls. She was a member of the original Bronco Cheerleaders and performed with a local jazz company, Jazz West.
Her professional training has spanned from the East to West coast spending time studying privately with such greats as; Henry LaTang, Savion Glover, Michael Minery, Rhonda Miller, Al Gilbert, Charlie McGowen, Laurie Johnson, Joe Tramaine and the great Gus Giordano, just to mention a few!
Miss Diane's involvement in the community has been immense. She owned and operated her own dance school for 31 years. During this time she was the director/choreographer for the Miss Colorado Pageant, regional director for Dance Educators of America and a member for 25 years. She was also the choreographer for numerous high school musicals, judged several national talent competitions and was on the faculty for PDTA, traveling state wide teaching at conventions. She received an award for 30 years of Excellence in Business from the City of Westminster.
In 2008 she joined the Academy of Colorado Ballet faculty as the administrator, serving as the interim Academy Director. She was the tap instructor as well as guest choreographer for the performing and competing company until June 2010. She has worked with the ice skaters at the Promenade Ice Arena and started the Tap Program at Ballet Nouveau in Broomfield.
Miss Diane's passion and love for dance is grounded in the belief that owning a dance school and sharing a love for the art, goes hand in hand!
---

Miss Crystal: All Around Insrtuctor/Office Manager
Crystal began dancing with Miss Diane at the age of 3. She studied Ballet, Tap, Jazz, Lyrical, Pom and Hip Hop. When she was a junior in high school she began assistant teaching. After graduating from high school Crystal became a teacher as well as office manager for Miss Diane. Dance has been a big part of Crystal's life and she is thrilled to be back working with Miss Diane in the dance world!
---

Miss Mary: Ballet/Lyrical
Mary began dancing at the age of three in her home state, Maryland.; She studied Ballet, Tap, Jazz, Lyrical, Hip-Hop, and Contemporary extensively and earned a BFA in Dance Performance from Oklahoma City University. Mary has danced with several dance companies, including the Chicago Honey Bears, traveling across the USA and abroad. With over 15 years of teaching experience, Mary loves to pass on her passion for dance to students of all ages and levels.
;Mary also holds a Master's degree in Somatic Psychology/Dance Movement Therapy and practices therapy in Broomfield, CO. We are so happy to have Mary back at BDA for the 4th season!
---

Mr. Christopher: Ballet
Christopher began taking ballet in his teens while he also competed as a figure skater. Ballet was helping him in figure skating and he eventually ended up pursuing his desire to perform in ballet and has continued to perform to this day. He is a company member of Danse Etoile Ballet and has guest performed with the Littleton Ballet Academy. Some of his most memorable roles and performances include the Nutcracker Prince from the Nutcracker, the Tin Man from Oz the Wonderful Wizard, the Mad Hatter and Knave of Hearts from Alice in Wonderland, Charlie Chaplin, and the Hunchback from the Hunchback of Notre Dame. Ballet is something he is very passionate about, and really enjoys the challenge that it presents as well as the opportunity to perform on stage. He works as a ballet instructor and figure skating coach and choreographer. We are excited to have Christopher on staff and want to welcome him to BDA!

---

Miss Nicole: Adult Ballet & Tap/Assistant
Nicole began dancing at the age of 5 with Miss Diane! This will be her 24th year dancing proudly alongside of her with the Alumni. Nicole graduated from The University of Northern Colorado in Greeley with a Bachelor of Arts degree as a Dance Major in 2001. She is happily married with three children, two girls who are following in her dance steps with their love for the art. They both are in classes with Miss Diane. "This has been a dream come true for me to watch my girls grow up dancing with the same mentor that I grew up with". Nicole has taught 5 years for Miss Diane and also assisted her in the ballet department as a young adult. She loves all genres of dance but strongly believes that BALLET is the basis on which all styles of dance can grow from. We are very excited for Nicole to be a part of BDA'S staff and welcome her with open arms!
---

Miss Janelle: Hip Hop
Janelle has been dancing for 30 Years. She grew up dancing with Miss Diane at Centre Of Dance! She has studied Ballet, Jazz, Tap, Lyrical and Hip Hop. Janelle's specialties are Hip Hop and Jazz. She has studied with top notch dance educators, including Joe Tremaine, Denise Wall, Travis Wall, Tabitha and Napoleon Dumo, Jabbawockez and Popin Pete from Electric Boogaloos. Janelle's outstanding choreography has won many awards and she has trained dancers that are successful in the industry today. This past year Janelle traveled with Rainbow Dance Competition judging for their regional competitions.
She is passionate about dance and loves to share it with her students. We excited to have her as a part of Bella Danze Artz!
---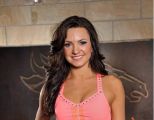 Miss Kayleigh:Pom & Hip Hop
Kayleigh has been dancing for 20 years and grew up dancing at Centre of Dance under the direction of Miss Diane. She was on her high school Varsity Poms Team for 3 years and competed in multiple state competitions. As a professional dancer for the Colorado Mammoth Wild Bunch for 3 years Kayleigh knows what it takes to have a love and dedication for dance! She is so excited to start teaching at Bella Danze Artz where she can share her love of dance with our enthusiastic students!
---

Miss Sarah: Assistant
Miss Sarah began dancing at the age of 3 with Miss Diane. She studied Ballet, Tap, Jazz and Lyrical. Her sophomore year she was selected to be a member of the Broomfield High School Poms Team and continued through her senior year. After graduation Sarah came back to dance with Miss Diane and later became an assistant. She is very excited to be a part of BDA and can't wait to share her love of dance with others! We are so happy that Miss Sarah has joined our staff at BDA!
Meet the Staff - 1 to 8 of 8